Ebooks Written by Dr. Michael Schramm
Following, I give an overview on my ebooks in English language. As you see, it's just one book so far. But there will be more soon!
The corresponding downloads are available for ebook owners only. Please type the URL given in the ebook's last chapter into your browser's address field.
Currently there is one ebook available: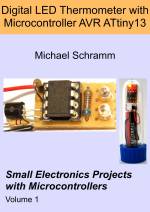 Digital LED Thermometer with Microcontroller AVR ATtiny13
Ebook in Kindle format available at Amazon.com, Amazon.co.uk, Amazon.de - or search 'your' Amazon site for B008CS1L8W, the book's ASIN (Amazon Standard Identification Number).
For other ebook formats, including epub and pdf, visit Smashwords.com.
Clip at Youtube showing the digital thermometer operating in a PETling.
The appropriate electronics kit (German language).